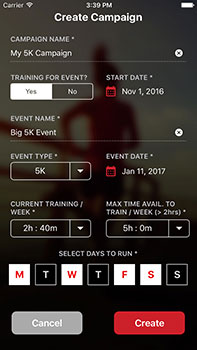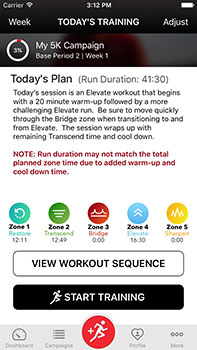 Less Than 2 Hours Each Week
For your first 7-10 weeks, PRsue will build your volume (i.e., how many minutes you run) to give you a solid base, reduce risk of injury, and set you up for zone training. This introductory campaign will advance your fitness as quickly and effectively as is safe.
When you're ready, we'll ask you to take a 30 minute challenge to gauge your improvement and define your training zones. You'll need a PRsue-compatible heart rate monitor for this. Once you've done this, PRsue will generate workouts that guide you toward the right zones (for the right duration, and in the right order) to achieve your goals.
Get Running!
To use PRsue, you will need to:
Download the app from the App Store. The PRsue app works with iPhone and requires iOS 9.3 or later.
Create an account and provide some basic information.
Create your introductory campaign.
Go run!

At the end of your introductory campaign, you'll run your 30-minute challenge to define your personalized training zones. To do this and create future campaigns, you'll need a

PRsue-compatible heart rate monitor

.
Have Questions?
There are a few ways to get more information about how PRsue works:
In the app, under the More tab, you'll find a "Learn About PRsue" link with information about features, zone training, a Frequently Asked Questions section, and heart rate monitor info and troubleshooting tips.
You can access the user forums on the website to ask questions and exchange tips with other PRsue users.
Explore Your Workouts and Data
PRsue's dashboard is a powerful tool that allows you to see your workout plans and review your performance in detail. The best way to learn it is to dive in and explore. For an introduction to the dashboard, click here.
" It gets me out the door and running the right way for me."  – San Diego, CA